Questions About Funeral Celebrants
Why Have a Memorial or Funeral Service?
Personalized memorial or funeral services are meaningful events that help us acknowledge the life transition we experience when someone we love dies. A meaningful ceremony confirms the significance of our loved one's life and the relationship we shared.
Loss, grief and sorrow are natural parts of life. A personalized memorial, celebration of life or funeral service helps us receive the support of family, friends and community during this time of transition and release. (more questions)
Why ask a Celebrant to lead an end of life ceremony?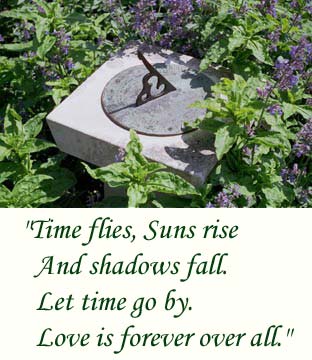 Individuals who request the services of a Celebrant do so for a variety of reasons:
Your family members may practice different religions or define spirituality in a multitude of ways.
A deceased loved one may not have been religious, but your family may want the service to reflect the love and significance of the relationships they shared with that person.
A Celebration of Life for your deceased loved one may be the most appropriate way to honour him or her.
You may want the service held in a specific place that reflects the lifestyle and personality of the person who died. Example venues include: a golf course, a community hall, a University campus auditorium, a favourite restaurant, the family home or some other unique setting. A cemetery can also be a meaningful and natural setting for a personalized interment of your loved one's cremated body or an earth burial in a casket.
Your deceased loved one may not have been actively involved in a religious community at the time of his or her death, but they may have requested specific religious scriptures, prayers or hymns to be included in their service.
Those with a life-limiting illness may wish to participate in the planning and design of their own funeral, memorial or celebration of life service. (more questions)
What will a Celebrant do for me?
A Celebrant will meet with you in your own home OR at your chosen funeral home. This meeting generally takes one to two hours. During this time, the Celebrant will explore ways of making the service as meaningful and as personalized as possible. Participation by family and community is always encouraged.
Once all of the elements of the service are discussed and decided upon, the Celebrant writes an appropriate and customized service, including all of the various 'parts'. In this way, they can create a smooth-flowing, beautifully crafted tribute for your loved one.
As necessary, the Celebrant will assist the various speakers before the event and oversee the ceremony's design and facilitation.
During the event, the Celebrant will facilitate and guide the proceedings, make any necessary announcements, as well as leading individuals through any rituals within the ceremony. (more questions)
How Do I Contact a Certified Celebrant?
You can contact a Certified Celebrant directly OR by asking your chosen death care service provider to contact a Celebrant on your behalf. This could be done during the meeting with the Funeral Director. Simply ask him or her to refer you to a 'Certified Funeral Celebrant'.
A Celebrant works with individuals on an at-need basis. Please ensure you determine the availability of a Celebrant before you confirm the date and time of the service. (more questions)